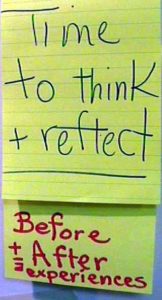 It appears it has been a while since I last wrote in this space. Well, truth be told, I wrote a number of posts (most notably about ISTE 2016). In a mishap, I lost those posts and had to restore my *latest* WordPress backup for this block.  Sadly, it took me back to March 2016.
Lesson Learned: Protect (Your Reflections)
If you use WordPress and have never backed up your blog, PLEASE DO!  I found a WordPress plugin called BackupGuard that may help me do this better in the future.
The other comment I will make is that I have started to use this blog as a place of professional reflection. Well, it's been a while since I have done that as well.  A lot has happened since March 2016 (went to ISTE 2016, helped my mother through a health crisis, started the school year, etc). I find that when I do have time to reflect, I am better able to make decisions and steer my interests and energies. Even though I am doing things I love, I feel like I need to take a step back and reflect on WHY I am doing it and WHERE I am going. Therefore another…
Lesson Learned: Reflect (Wash. Rinse. Repeat)
Fortunately, I learned about George Couros' #InnovatorsMindset MOOC starting February 27, 2017. If you are interested in learning more, visit his latest blog post.  If you haven't heard of George Couros, consider this your lucky day. I have followed him on Twitter for a number of years and continue to be amazed by him. The MOOC will address the three questions:
How do you move from "pockets of innovation" to a "culture of innovation"?

How do we start to innovate inside of the box?

What does innovation mean for education, and should every educator be an innovator?
I have been living on the bleeding edge of educational technology for many years. Sometimes in different types of spaces (public education, non-profits, universities, online learning world). I find the public ed space the toughest nut to crack in terms of innovation. I am very much looking forward to this MOOC!  I will probably be using this blog as my sharing space so keep visiting!
Please let me know if you join in the #InnovatorsMindset MOOC after seeing my blog as I will feel my return to it will be even doubly worthwhile!